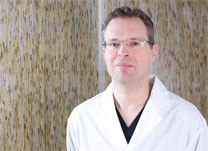 Facility:
Derm.ca Clinic
242-4411 16 AVE NW
Calgary, Alberta, Canada T3B 0M3
Contact:
Website:
Personal Summary:
Dr. Ken Alanen is an authentic expert in the diagnosis and treatment of skin disease. He has special interests in skin cancer, lasers, cosmetic dermatology, acne tattoo removal and dermatopathology. He has seventeen years of post secondary education, spanning from 1987 to 2004.

Dr. Alanen received his Bachelor of Science (molecular biology) and Doctor of Medicine degrees at Western University followed by a five year residency in Pathology / Laboratory Medicine with specialty certification from the Royal College of Physicans and Surgeons of Canada (FRCPC) in 1999.  Subsequently, he completed a two year fellowship in Dermatopathology (the art and science of microscopic diagnosis of skin disease) at the University of Colorado under Dr Loren Golitz . He passed the subspecialty Dermatopathology examination, jointly administered by the American Boards of Pathology and Dermatology.

Dr. Alanen completed his residency in Dermatology with FRCPC certification in 2004. He has approval from the College of Physicians and Surgeons of Alberta for Mohs' Micrographic Surgery. His clinic, Derm.ca, is a certified Non-Hospital Surgical Facility. 

Dr. Alanen has been an invited speaker at the American Academy of Dermatology (AAD) Annual Meeting and has spoken many times on the international, national, provincial and local levels. He has co-authored numerous peer reviewed studies as well as a textbook in Dermatology. He is a member of the province-wide multidisciplinary skin cancer group of Alberta.


Medical School and Year of Graduation:
University of Western Ontario, 1994
Residency Training and Year Completed:
Group Practice/Hospital Affiliations:
Key Professional Achievements and Awards:
LMCC - Licentiate of the Medical Council of Canada
FRCPC - Fellow Royal College of Physicians Canada - Anatomical Pathology
FRCPC - Fellow Royal College of Physicians Canada - Dermatology
Specialized Training or Interests:
Skin Cancer
Mohs' micrographic surgery
Acne
Lasers
Skin cancer
Teledermatology
Moles
Melanoma
Dermatopathology